I so enjoy decorating our Christmas tree each year. Since we have such a high ceiling, our trees are usually over 12 feet tall. But, this year's tree was slightly smaller than usual. (It was purchased at Costco at a great savings so we were happy to go shorter.)
In past years it has taken me up to a week to decorate the tree. But this year it was done in three days. This was not entirely due to it's smaller size. Ten years ago, I would have been up and down the ladder a dozen or more times just to arrange and rearrange a small group of ornaments. I would place a few, get down the ladder, look at the tree from across the room, decide that one or more had to move up/down or right/left a quarter of an inch or so, climb up the ladder to adjust it, then back down… NUTS! Right? I liked to say I'm a bit saner now. But the truth is it's just too exhausting, I'm not as young as I use to be. So simply put, it take me less time because I have lowered my standards.
Christmas Nostalgia
2012
By Doris Guymon
I always create a musical group. The "Elvis" Santa was purchased in 2012 at the Musical Instrument Museum in Phoenix while visiting our friends Mark and Marilyn. The two Balinese musician where purchased in Bali. The caroler was a reworked ornament I found on clearance. I changed her skirt from 1950 to 1915 and added the "sheet music."
(Decorating Hint: Collect some ornaments in a basket along with any tools you would need. Carry the basket up the ladder to decorate to the top. This may seem obvious to you , but it only occurred to me a few years ago. My previous method was to hang ornaments on the fingers of my left hand and then climbed the ladder. So image how brilliant I believed myself to be when I thought of this. (You have to wonder why did it take me some fifty years?)
I love my Christmas ornaments. May I wax nostalgic...
The star atop was a gift from our dear friends Colette and Bill with whom we share Christmas when we live in California.
I purchased the ornament on the left in Germany the year after my mother died. As you see there is a teardrop on the cheek of its pretty porcelain face. This sweet fellow reminds me of my mother, father, my brother Lou… all my loved one who have passed. Of course I have a little bit of a cry, but they are always apart of my Christmas.
(Decorating Hint: For a heavy ornament that cannot be supported at the end of a branch, place it back slightly. Using a long length of wire, wrap the wire around the branch. Then take the wire back and up the tree. Find a stronger branch that can support the weight. Pull the wire and fasten it at a point where the lower branch appears to support the ornament.)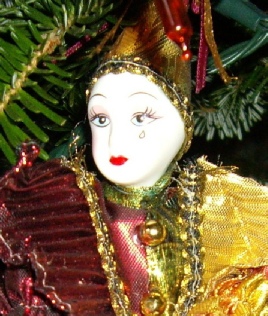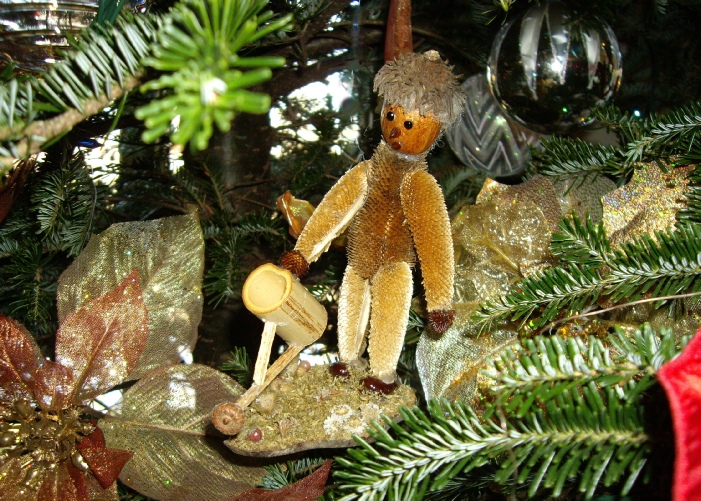 Here is Wayne, Head Gardner of WynEden. (Ornament from the Brandywine River Museum in Chadds Ford)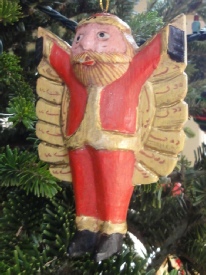 Three ornaments dating from our days in New York City:
These were purchased from Mason and Dixon a trendy but very small shop that was on Amsterdam Ave above 82nd Street. During the holidays customers would line up outside and around the block to wait for a turn to enter the store. I love the "myth crossing" Santa from Indonesia. He has the wings of a Hindu Garuda.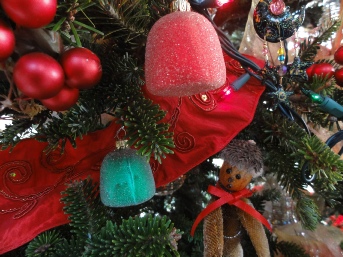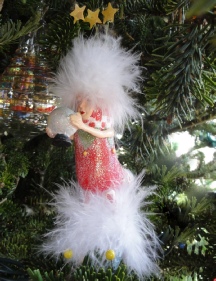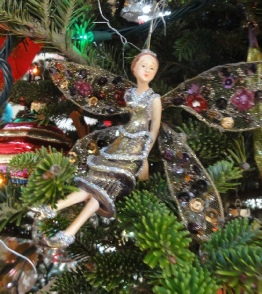 Blue Angel floozie from Bloomingdale on Lex. circa 1985
My dream-catcher and fish earnings. One of three sets I no longer wear. Yes, I actually wore these.
It was the 80's man!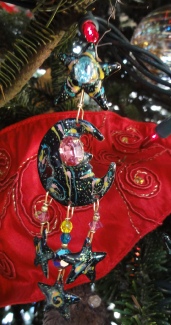 One of a dozen or more Brugmansia blossoms (red and gold) Purchased at the old Styer's here in Chadds Ford.
A Pair of whimsical characters by the artist Patience Brewster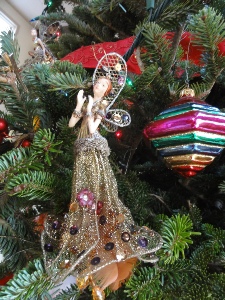 Three of the dozen or so fairies purchased from the old Styers in Chadds Ford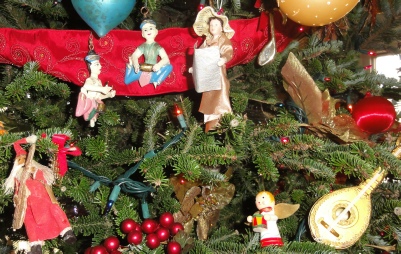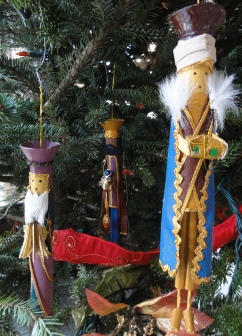 The Three Wise Men were purchased at Pier One in Woodland Hills after Christmas. The two behind were without gifts. Do you think that was why they were less than a dollar each? I made the last Wise man's gift from an old earring. The other's is an inverted dried Columbine seed pod. The "pearl" on top was a tiny bit of hardened sodder that I found during our bathroom remodel. I scare myself.
Remembering our Peacocks
Pablo Picasso & Diego Rivera
Los Pavos Reales
(Spanish for peacocks is literally Royal Turkeys)

C 2013 WynEden all rights reserved
Thank you for staying with me all the way to the end.
I needed to memorialized this, so that if next year I am too old to get up on a ladder, I can load this page and reminisce.
Last hint:
String various lengths of ribbon on the tree. Hide the ends in the back or place them under or behind an ornament. The idea is to make it look like one continuous ribbon. This is a lot easier than wrapping the whole spool of ribbon round and round.
Gumdrops:
Given to me by Allie and Willie Habeeb to commemorate an event they claim to remember. They were about three years old. I was tickling their shirtless tummies and blowing air into their belly buttons. At one point I palmed gumdrops from the candy dish and with slight of hand put the candy between my teeth. They were totally amazed each time I emerge from their tummies with gumdrops between my teeth. They were so adorable.